Workplace Sanitation Essentials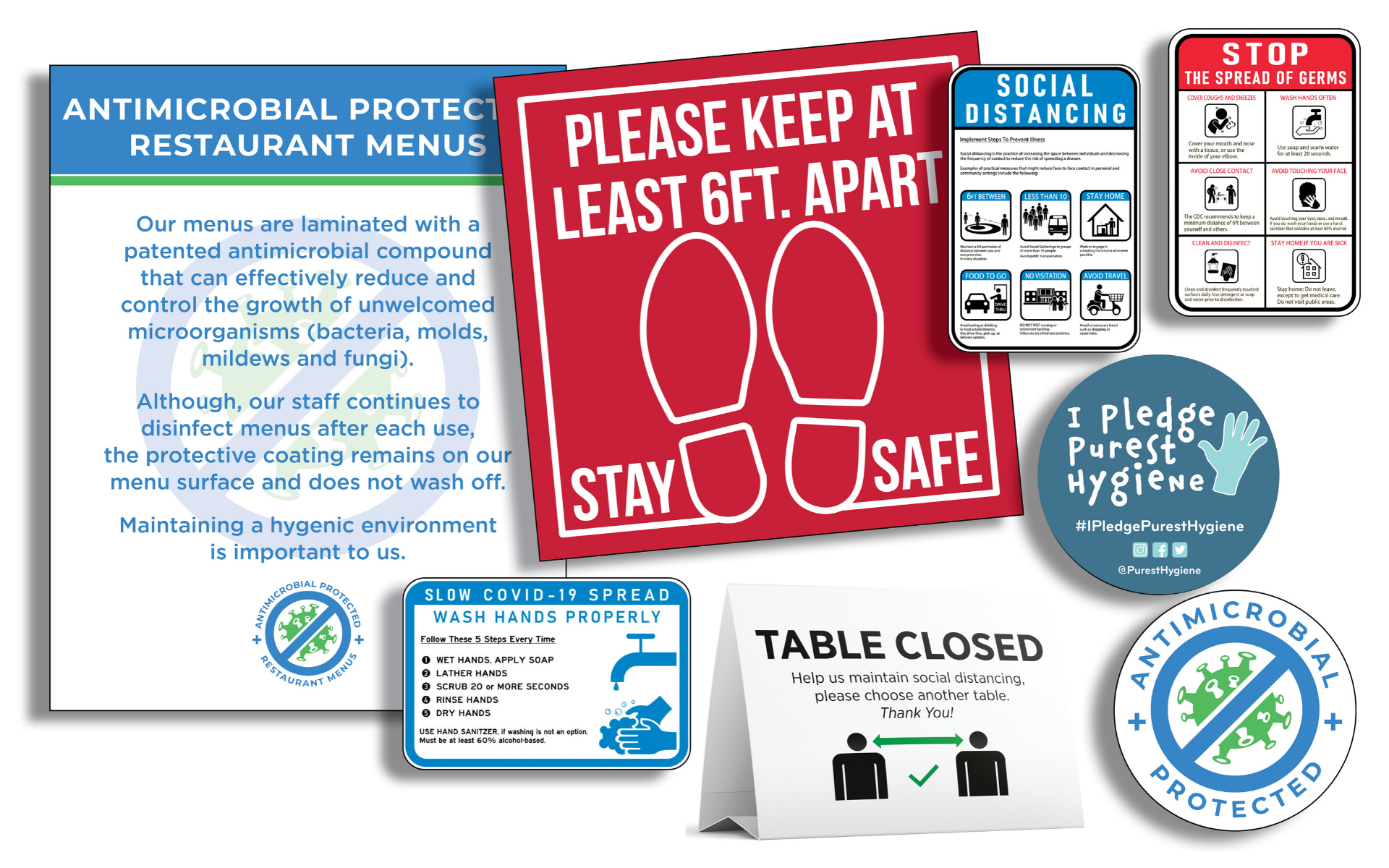 FLOOR GRAPHICS, SIGNAGE, AND DECALS
We can print various workplace sanitation essentials such as signage, window clings, floor graphics, table graphics, banners, notices or just about anything you can think of to let your clients know you're a clean and responsible provider.  
We can produce a one-time use menu or any document you may need (color or black & white) low or high volume, at a discounted price.  For one-time use and disposable material, we recommend lightweight, uncoated paper as the more economical option.
ANTIMICROBIAL LAMINATE
We've researched and sourced the best antimicrobial laminate on the market. This laminate can be added to many printed materials.  This thermal laminating film is enhanced with a patented antimicrobial compound that inhibits the growth and reproduction of damaging microbes to help prevent the spread of germs, bacteria, molds, mildews, and fungi.  The material should still be wiped between uses but maintains a higher protection rate against the broadest range of bacteria.  A frequently asked questions document regarding this new product is available upon request.
ANTIMICROBIAL UV COATING
For high-volume printing, we have the capabilities to apply an antimicrobial UV coating simultaneously while printing so it is faster and more efficient. The coating has similar qualities as a laminate but it is not as durable, so your printed pieces may not last as long. We can also utilize a water-based anti-microbial aqueous coating. However, this coating is susceptible to deteriorating over time when wiped down. This could potentially be reused a "few" times but it will not be as durable as the UV coating or laminate option.
SYNTHETIC PAPER
Workplace sanitation essentials produced on synthetic paper are durable, waterproof, tear-proof, fade-resistant but not antimicrobial.  This is a great economical alternative to the antimicrobial laminate and coating options.
Please contact us today to learn more about workplace sanitation essentials!
Improve Efficiency and Reduce Cost.
The Kennickell Group is one of the few printing and distribution companies in America to offer a full Content Distribution Management System. Unlike other CDMS systems, our proprietary fulfillment program allows editing, modifying, and publishing content as well as tracking inventory levels and activity 24/7 from a central online interface. It is one of the most sophisticated systems in the entire industry and provides our customers the ability to see the inventory and usage of their publications in real-time in the blink of an eye. By relieving your company from the day-to-day responsibilities of managing your print inventory we enable you to re-allocate your resources to your core business, thereby freeing up valuable time and costs that were associated with the management of this inventory. Moreover, Kennickell will help you identify historical trends to accurately forecast usage and provide additional cost savings. Clients using our system have significantly improved their efficiency and reduced costs. Our direct mail and fulfillment center is more than 80,000 sq. ft. and is managed by a dedicated staff of professionals with years of experience. Kennickell's fulfillment accuracy is rated among the best in the United States with orders being sent out on time and to the correct address 99.7% of the time. Preserving the Environment with Actions, not Words.
Why Us
?
Kennickell's management is completely committed to product development and implementation, continual improvement, the fulfillment of customer needs, quality policy/objectives and a sustainable environment. Evidence of commitment is through daily meetings, monthly associate meetings, management reviews, and acquiring and dissemination of customer feedback. Kennickell is also committed to using paper which can be traced to a sustainable forest. We are also committed to being good stewards of the environment by encouraging the use of these and other recycled papers, recycling 100% of paper products/waste and aluminum plates, and using vegetable-based inks and environmentally friendly products.
Preserving the Environment with Actions, not Words.