Your Vehicle Wrap Project from Start to Finish
You've done the research. You've run the numbers, and realized that your business could be getting upwards of 30 thousand impressions a day by having your vehicles outfitted with your logo and other designs. You've picked the best company in Savannah – the Kennickell Group – for the job. What should you expect the vehicle wrap process to look like?
First Contact
When you first reach out to Kennickell, you'll want to include some basic information like what you're looking to have printed, how large you want the items to be, what kind of material you want, the timeline you're working with, and your design. We will work with you to make sure that the material, sizing, finish, and other details of your project are right for what you want for your business.
In this article, we'll be following the example of a box-truck wrap from beginning to end. Kennickell has our own in-house designer who can help bring your ideas to life. Of course, we can also print and install your own design.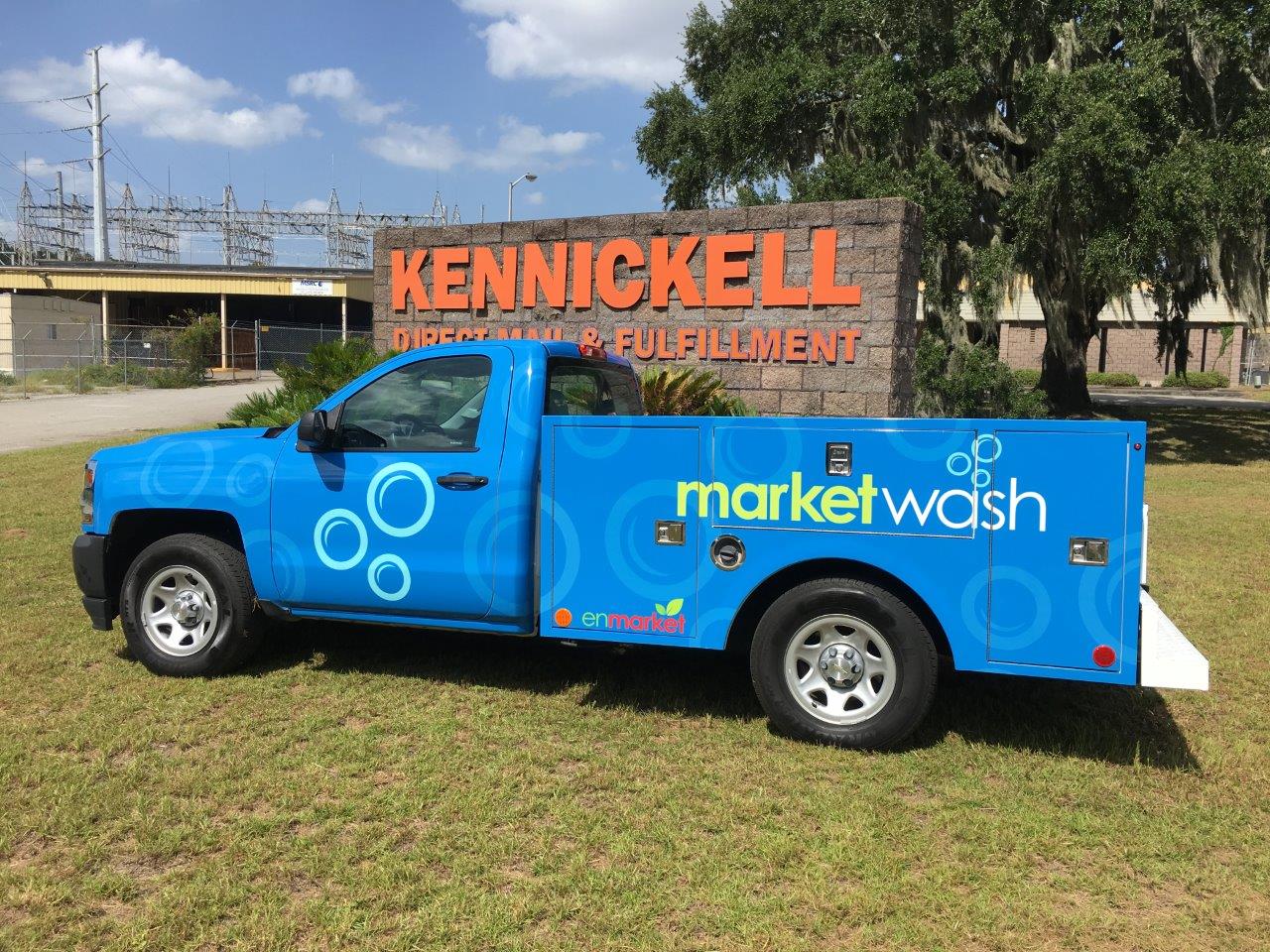 Design and Planning
For most vehicle wrap jobs, the longest phase of the project will be designing. When you send your initial ideas, our designer will take them into consideration and give you a few options. It's normal to have a bit of back and forth communication between you and our designers during this stage to get the details right for what you want.
Once you have met with our vehicle wrap specialist, we will schedule the vehicle drop off, installation, and turnaround time.
Printing and Wrapping
We will print your design just ahead of the scheduled time for it to be wrapped. We print vehicle wraps on a high-quality latex printer. If the vehicle is large, we may print multiple panels and piece them together seamlessly onto the vehicle, to give the effect of one large image.
Finally, you'll drop off your vehicle to be wrapped. We'll rub down the entire outside of the vehicle with alcohol. This is because any small amount of dirt can cause bumps or bubbles in the wrap, which could possibly cause your wrap to crack or come off. Once we've ensured that your vehicle is clean and ready to be wrapped, our expert technicians carefully apply the printed design to the vehicle.
The Finished Product: Vehicle Wrap Complete!
The last step, the moment you've been waiting for: the reveal! After all the planning, designing, scheduling, and waiting, you finally get to pick up your freshly wrapped vehicle. Now you have a moving billboard for your organization that will last for years and get thousands of eyes where you want them: on your logo!
Contact the Kennickell Group
Now that you have an understanding of the process, you can go into it feeling confident that your project will come out exactly how you want it to look, and in a timely manner. All that's left to do is get started!