How to Self-Publish a Book:
A Step-by-Step Guide
So you've always been interested in writing a book. Whether it's a children's book, a novel, short stories, or poetry, your art has been inside of you and you feel it's ready to bring it to the world. The only problem is…what if no one wants to publish it? There is a way around that, if you're willing to do a little work (and let's face it, writing a book isn't easy, so you've already proven you're ready to do the work!). This article will show you step-by-step how to self-publish a book.
Step 1. Write a Book!
Obviously, the very first step (and probably the longest) is to write the book! During this phase, you should be thinking about things like: Are you going to have images in the book? What do you want the book to be saying? What should the title be? All of these things are good information to have written down, even if it's not something you explicitly put in the book. This will give you a better framework to work off not only while you're writing the bulk of the book, but also in the later stages of publishing when you're making more creative decisions on how to represent your book to potential readers.
Step 2. Editing
When learning how to self-publish a book, you may not think about all the steps before the actually publishing. But these are vitally important to getting your book ready for publishing! You'll likely go through multiple rounds of self-editing during the writing process. Then, if you're able, it will be a good idea to hire a professional editor before you finalize the book. This way, you're much less likely to have mistakes slip into the final version of the book. Two sets of eyes is better than one!
Step 3. Design
By now, you should have a good idea of what the book is meant to say and how you might want to design things visually in regards to the book. In this step, you'll take all those elements you want to represent and use them to create an intriguing cover. If you want to include illustrations in your book, this is also the step to do that. If your forte is more writing and not visual arts, you might want to consider hiring an illustrator or a graphic designer to make sure your images come out the way you want without you having to learn a completely new skill.
Step 4. Finalize your Manuscript
Before you can begin the process of getting your creative work out into the world, you'll need to finalize your manuscript. This means formatting your manuscript how you want it, combining all your words with any illustrations and cover art you want, and making sure everything is edited and organized how you want it to be in the end. Depending on where you publish, this may change slightly, but overall you want to have things buckled down in a way that you're happy with.
Step 5. Decide Where to Publish
This is one of the most vital aspects of learning how to self-publish a book. The easiest way to publish a book is digitally, through retailers. This means you will format your book and submit it to a place like Amazon or Apple iBooks, where readers can purchase and download the PDF of your book to read on their own devices. (You can learn more about digital publishing options and pricing here). For many people though, the experience of reading a book still isn't right without a physical copy to hold and flip through. If you want to have physical copies to also be able to sell and gift to your family and friends (not to mention, to have your own book sitting on your shelf), you will want to look at printing companies that could help with that. While self-publishing, your best printing option is likely going to be a soft-cover version of your book, to keep costs down and avoid having to deal with large book manufacturers. A company like The Kennickell Group can help with formatting for the printing and publishing process, and can turn your dream into a physical reality.

Step 6. Marketing your Creation
Now that we're getting ready to bring your book into the world for others to read, you need to decide on pricing. Landing on a price for your book can be a bit complicated, so we won't go into detail here, but if you want more information, this article will help. Another big part of getting your book out there is marketing. You might consider running a digital marketing campaign, posting about your book on all your social media platforms consistently and trying to get those posts seen by as many people as you can, or even running ads in physical newspapers, magazines. If you'd like to see your book in stores, you can partner with local bookstores or other specialty stores to host an event or see if they're willing to sell copies in their store. You could also drop off copies of your book at local libraries, schools (if appropriate), community centers, lending libraries, or anywhere else that might be willing to host your book for readers to find. Here are some more ideas about how to distribute your book locally.
How to Self-Publish a Book: Finishing Touches
Now that you've done all the hard work, it's time to release your book into the world! Don't forget that marketing for yourself and your book never ends, so continue to post about it and encourage readers to post about your book as well. A recommendation from a fellow reader can go a long way towards gaining you new readers, more revenue, and eventually, a path to continue doing what you enjoy – writing!
Check out our other recent blogs: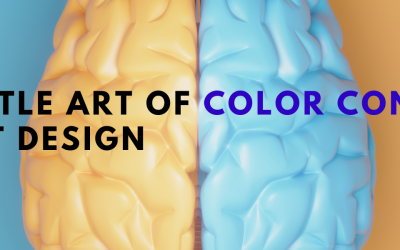 Color Contrast in Print Design In the world of design, color isn't just a visual element; it's a powerful tool that can convey emotions, evoke reactions, and communicate messages. One of the key principles in effective design is color contrast. When used skillfully,...