Digital vs Print Business Cards
Print business cards are the classic, exactly what comes to mind when you think "business card". A digital business card, as you might guess, is a way to communicate your contact information digitally the way a paper business card would physically. It can be created on an app and shared phone to phone when you meet a contact, or it can be a PDF shared on social media or in other non-physical settings. With everything going digital these days, what are the pros and cons of digital vs. print business cards?
Pros & Cons of Print Business Cards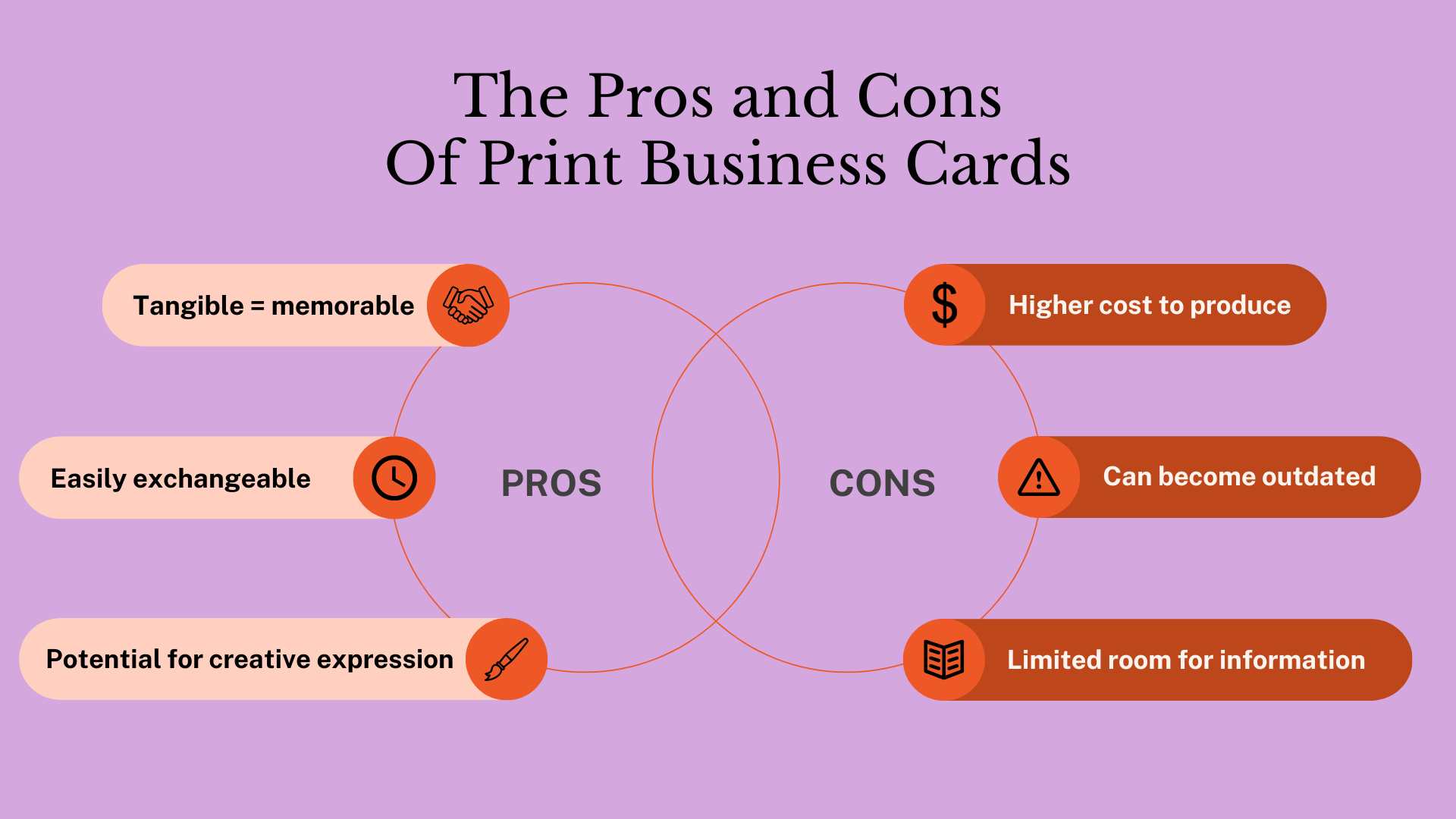 When you make a connection, you can easily pull out a business card and hand it to them, without having to go through the potential technical difficulties of a digital card. This physical exchange between you and a new contact is more likely to be remembered. Contacts may re-remember you or re-engage with you after finding your business card even if they forget to do so after your first meeting. In addition to this, print business cards allow for creative expression. Different sizes, shapes, colors, and finishes can make your print business card more memorable, and allow you to craft your business image so that your card becomes an extension of your ethos.
On the other hand, the physical nature of print business cards means additional cost to design and print them, and the inconvenience of having to actually carry them around with you in order to hand them out. You also by default have a limited number, meaning you could potentially run out when you need one. Print business cards are also meant to be compact, meaning there is a limited amount of room for your information. You don't want your print card to look crowded, so you might be forced to pick and choose what to include and what to leave off your print business card. Printed business cards can't be edited once they're made. If contact details change, business address, logo, social media handles come and go, or if you change your field completely, outdated business cards are rendered unusable.
Pros & Cons of Digital Business Cards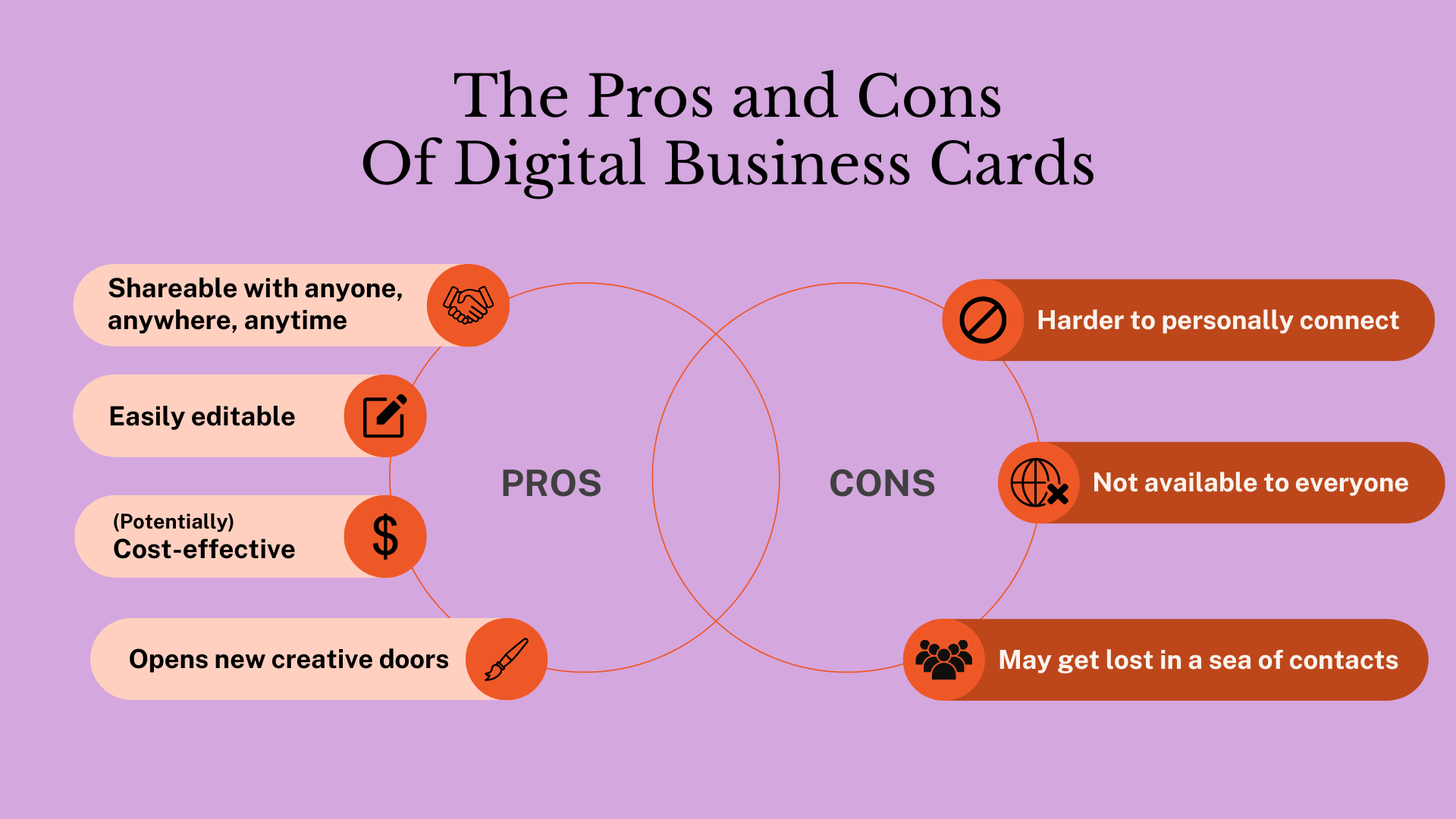 Digital business cards don't require a physical exchange to be shared, which expands your potential reach from locally to around the globe. They can be easily edited if contact information changes, and they can be made interactive, which has the potential to grab your contact and pull them in more than a physical card. You can add videos or other digital assets that can help convey who you are and what you do. Digital business cards can also be cheaper because they don't have to be physically produced, although some apps that allow you to easily create and share your digital business cards have a subscription fee associated with them.
Digital vs print business cards – On the other hand, digital business cards require a smartphone and wifi. If someone doesn't have a smartphone or social media to see your contact information, it defeats the purpose of a digital business card. It's also harder to establish a personal, memorable connection with someone digitally. Your contact information can get lost in a sea of other contacts in their phone, and if they don't remember your name, they still might not be able to contact you even if they do have your contact information.
The Best of Both Worlds
The truth is, having a way to exchange contact information both physically and digitally is probably the best bet for your business. You can either create two separate cards, one physical and one digital, or you could consider just including a QR code on your physical card. That way, you can update your site with new information while your contact still gets a physical token to remember you by.

Check out our other recent blogs: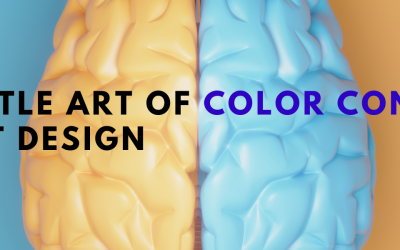 Color Contrast in Print Design In the world of design, color isn't just a visual element; it's a powerful tool that can convey emotions, evoke reactions, and communicate messages. One of the key principles in effective design is color contrast. When used skillfully,...