Printing in today's technological world.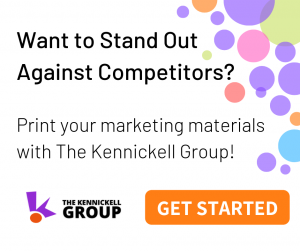 You've been hearing it for years that print is dead. With so many technological advances throughout the years, it's easy to assume that the Internet will consume the print world, but that couldn't be farther from the truth. Social media makes it easier to promote yourself, but raises competition between companies. You must find a way to stand out against competitors and grab the attention of your potential customers. But how? 
The answer is simple- printing! People think that they have to put all of their efforts in web marketing, but they are overlooking traditional methods.
Why Printing Isn't Dead
While digital marketing is extremely effective, it doesn't have to be your only, or most effective option. It depends on your business and what you are trying to sell. Emails and newsletters are easily deleted, lost and can be annoying if sent too often. According to Small Business Trends, 80-90 percent of direct mail gets opened, while only 20-30 percent of emails get opened depending on the day.  The invention of the Internet has made everyone's lives much easier, but it can bombard people with too much information. Print is straight to the point and doesn't allow the viewer to get distracted with other links or ads. 
Advantages of Printing
Easy on the eyes:

There has been growing popularity with reading online, but can this cause more harm than good? You can now buy books online and read them with a click of a button. People can easily watch full length films in the palm of their hand. Staring at a screen for long periods of time can cause long lasting negative effects on your eyes. A report from

Two Sides

in 2015 said that around 80 percent of people would prefer to have printed versions of things than read things online. For marketers, try switching things up, but adding printed products to your strategies. 
Less likely to skim:

Research has shown that people tend to take a lot of shortcuts while they read online, which leads to a low retention rate. People aren't actually focusing on what they are reading. In return, your message could be lost completely and you could be losing potential customers. Don't lose your customers, send important messages through print! 
Printing is more credible:

You have most likely heard the saying, don't believe everything you see on the Internet. In a lot of cases, that should be taken seriously! It is easy to get lured in by catchy ads to find them to be a complete scam. Print is more legitimate and an easy way to gain the trust of your customers and potential customers. 
Print stands out

: While people's faces are stuck to a screen, print stands out against digital forms of communication. Receiving physical mail at your home or office can be a sweet surprise from the typical online emails, if it is designed and printed well. Personalizing print mail can make physical mail stand out even more and get your message across easily. 
How Kennickell Can Help
The Kennickell Group is your printing solution! We offer many printing services including: wide format, signage, offset and more. We pay attention to detail, professionalism, promptness and accuracy. Contact us today to see how we can improve your business!