Imagine some of the biggest brands in the world. Depending on who you ask, the answers can vary. For this example, Nike, Microsoft, and Starbucks take the top marks. At first glance, these companies have very little in common, yet you recognized all three companies quickly because of a term called "branding." In this blog, we'll teach you a few quick tips on how to create a brand identity for your business. 
Branding is the marketing practice in which a company creates a name, symbol, design, and slogan that is identifiable and unique to a business. When someone thinks of Nike, they think of the trademark swoosh. For Starbucks, the green and white nautical siren. With Microsoft, the sleek four-color window design. You recognize these companies based on these images. Remember, these previously mentioned brands took years to get established to the level they are today. Learning how to create a brand identity is a long process, but with proper guidance, it can be an easier process than imagined. 
Love Your Logo
When logging onto a webpage, a company's logo is often plastered on the website's header. It's small, effective, and printed on anything a company produces. For success, it's important for the symbol to be well-thought, interesting, and provide insight into what customers should expect from your company. When customers come searching for your business, a sleek logo can make a massive impact. Is your logo simple to represent your company's straightforwardness? Or is it complex with hidden nuances that show your desire to be a leader in new ideas? Valuable information is exchanged just from your logo, so it's important to your brand's identity. 
Color is Key
Consistent color is key. As you can see from our website, we wave our purple and orange logo with consistent pride. Our symbols, emails, marketing items, and social pages all reflect this consistency. Just like your favorite sports team's uniforms, a distinct color palette and logo act like your uniform. With consistent color, customers will recognize your brand.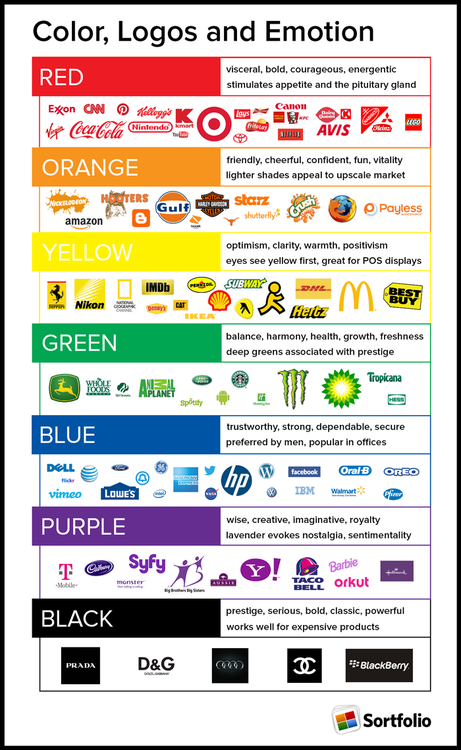 Next, it's important to recognize not only what colors are needed, but how these colors can create certain emotional preconceptions about your business. For reference on how color can affect the tone or mood of your company's brand imagery, see the image to the right from Sortfolio and ConceptDrop:
Each brand is consistent with coloring and branding. Because of this, you know exactly what can be expected from each of them. Refer to this chart as an important basis for choosing the final version of your brand's logo. In turn, this will directly create your brand's standard for marketing materials and online presence.
Create a Voice
A brand's voice is equally important to its image. Think of brands like Wendy's, Netflix, or Audi that have different approaches that benefit each respective brand's identity. If your company is bold like Wendy's, you're looking to sass and dish out harsh digs at other fast-food chains. Maybe your brand is well aware of social fads and takes the Netflix approach and talk about breakups, binges, or staying in the entire weekend to catch up on your favorite new series. If you're a company like Audi, you're looking to reach the upper echelon and be refined and regal to sell your top vehicles. 
To make the most of your brand's presence, know your audience. Younger audiences enjoy Wendy's or Netflix's jokes, but the older crowd may appreciate the direct tone of a luxury car like Audi. Make the most of these tactics and refine your primary audience to accommodate these small details. 
All Together Now
Building a brand is not a one-step process. Constructing a brand identity takes time to come full circle. Each aspect added to another creates what customers will know as your brand. 
Not only does branding help represent your business, but it also helps symbolize each of your individual employees. Employees will take pride in wearing a company's sleek logo or colors and be satisfied in belonging to the company. Uniformity is a valuable asset from both the inside and outside of your business. This uniformity amplifies your refined and professional representation to the general public. 
How Can Kennickell Help? 
With over 100 years of printing and point-of-purchase experience, The Kennickell Group can guide your business in delivering high-powered marketing content. Whether it's a print brochure campaign, wide-format printing, or creating an online storefront to push your business to new heights, Kennickell channels your creative energy into something never seen before. These steps on how to create a brand identity are helpful if implemented long term.
For more information on how we can help your business create beautiful marketing material both domestically and internationally, please leave us your information in the contact link below.