Direct mail campaigns give businesses the opportunity to appeal to their customer base via USPS mail. While these campaigns come in a variety A direct mail campaign can bring your business ample leads if done correctly.
When exploring tactics and strategies for the latest trends, it is great to concentrate on a single medium you are working on. In most cases, print and digital media experience similar trends but do vary from time to time. Often, combining tactics from both styles can produce the best results. In this article, we'll highlight a few of the best print marketing campaigns in 2020.
Highlighting Customer Stories
Highlighting your company's value to your customers via direct mail, pamphlet, or flyer could be a valuable tool in your marketing campaign. Modern customers don't want to know how great your business is, but rather what your business can do for them. This can be a great opportunity for a mail campaign.
In this campaign, for example, you could highlight a few success stories about your business. These success stories of happy customers show that your business does a great job at its specializations. Customer testimonials, before and after images, reviews, and other related content can be a great marketing tool for this particular campaign. Be sure to include high-quality images and ask your printing experts what paper would be best for the mailer.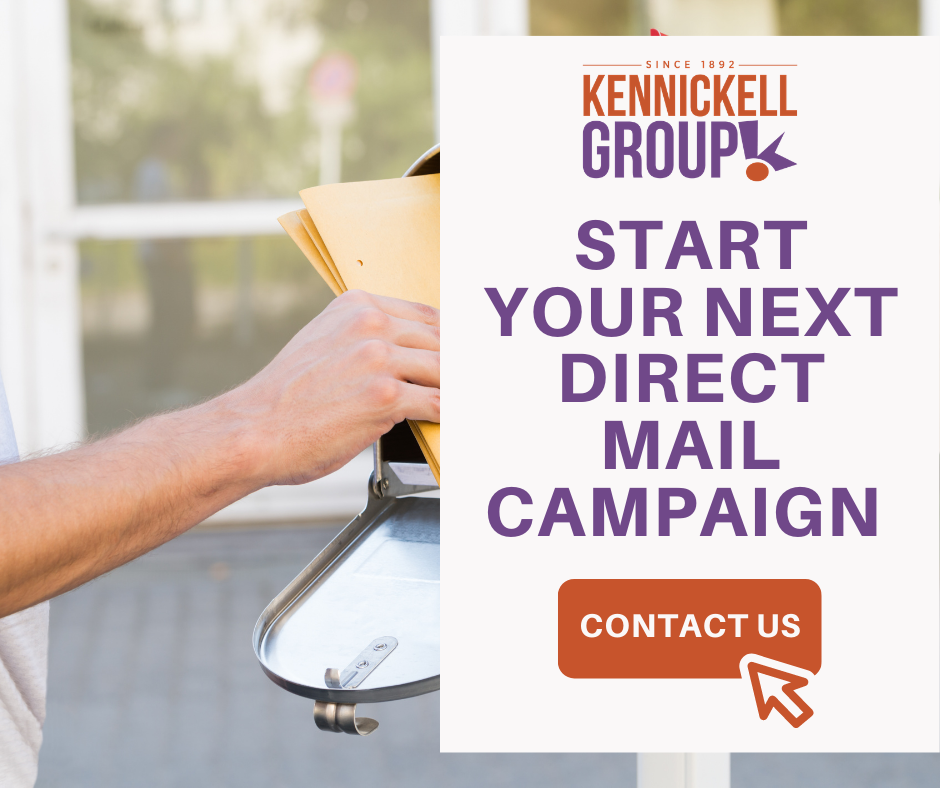 Personalized and Targeted Content
Personalized content can come in a variety of forms. Demographic targeting, retargeting, location-based targeting, and life event targeting are all options in deciding how to personalize content for a print campaign.
Demographic targeting: content based on age, gender, ethnicity, location, etc.
Retargeting: uses information already known about a user via an internet tracking cookie (see KDM Direct Mail+). For example, if a browser searches for golf items online, you can retarget that user by displaying more golf advertisements both online and in print advertisements. Retargeting ads are used often and seen on almost every social media site.
Location-based targeting: location-based targeting is perfect for small businesses that want to earn business in a certain area. This can be done well by salons, gyms, restaurants, grocery stores, and boutiques. Personalize the mailer with a map of the local area to help the target visualize the distance.
Life Event Targeting: life events like buying a home, a child's birth, or graduation are great opportunities for B2B or B2C businesses to send discounts to customers. Registry item discounts, personal congratulations messages, and overall brand presence can create lifetime customers.
Personalized publications don't have to necessarily mention the customer's name. All you have to do is to create content that caters to your customer base.
Be creative with your paper texture
Paper texture plays a much larger role in a mail campaign than you may think. Each paper type has specific characteristics that make it more durable or softer to touch. Naturally, this depends on a conversation between you and your printer.
A few ideas:
Coated vs. uncoated: Most direct mail comes on coated paper stock. This helps ink for text and images to properly sit on paper. While coated mailers may seem more expensive, it's quite the contrary. Coated mailers are more frequently used, which drives up the purchase price.
Paperweight: Paperweight affects the speed your mailer moves through the USPS workflow. The thinner paper moves quicker but lacks durability. Additionally, the thinner paper doesn't appeal to customers because of its cheap feel. Keep this in mind when comparing your mailer to others.
Contact the Kennickell Group
The Kennickell Group can guide your business in creating direct mail that can reach your target audience and help convert them to buying customers. Direct mail marketing can open numerous doors that seemed impossible to reach before. For more information on why print marketing still matters, please follow the link here.