Signage is a must-have for any business. Your signage is what instructs people to different locations, services, and other information about your business. Without proper event signage, your customers won't be able to find your business, and the events that you host will be overly chaotic.
A Look At Event Signage
Having an event to attract a variety of attendees starts with thinking about your event signage. You should take the venue that you're using into consideration when determining the size and various types of signage that you'll need. Here are some examples of signs that you'll need to put on the must-have list for your next event:
Bathrooms

Line Entrances

Vendors

Charging Stations

Information Kiosks

Welcome / Entrance

Thank You / Exit
These signs will cover the basics of any event that you're hosting. Once you've determined the signs that you'll need, it's time to consider how you're going to design them. Remember that each sign that you post will be a point of contact between your brand and potential consumers.
Wall Graphics For Your Business
Graphics on the wall are becoming a new trend with many corporate offices that are looking to invigorate employees and impress customers. Any sort of logo, product, character, inspirational message, fun facts, pictures, or mission statements that are placed on the wall is considered wall graphics. These interior fabrications can be as big or small as you would like.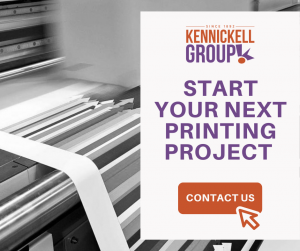 When designing graphics for your walls, it's important to consider what vibe you're trying to create. Are you trying to inspire your employees? Are you looking to impress customers visiting your business for the first time? What emotions are you trying to evoke in the people who view your wall graphics?
Kick Things Up A Notch
Graphics on your walls aren't the only thing that you need to ensure that your business creates a warming environment. There are many signage additions that you can utilize throughout your building to ensure that people enjoy the environment that you create at your office or at an event that you're hosting.
A trick that will be bound to impress just about anyone visiting your office or event is to have wraps on your stairs. These wraps can encase a message or picture that makes use of the usual dead space that stairs offer. Stair wraps are a great solution for directing people during your event.
Floor graphics are another great way to add spice to your event. Just like stairs, floors tend to be an area that most event designers classify as dead space. However, adding signage to the floor can not only help to flow human traffic during your event, but it can add a decorative flair that goes above and beyond the norm. When you're having an event, you want to do your best to ensure that your attendees are blown away and tell everyone else about how your event was unlike any other.
Contact the Kennickell Group
The Kennickell Group is Savannah's local experts in wall graphics, signage, and print materials. Our expert team serves the Coastal Empire and Low Country by delivering high-quality projects for a range of industries. Whatever your needs may be, we'll help you find the best solution. Call or inquire on our website today to get your exclusive quote.